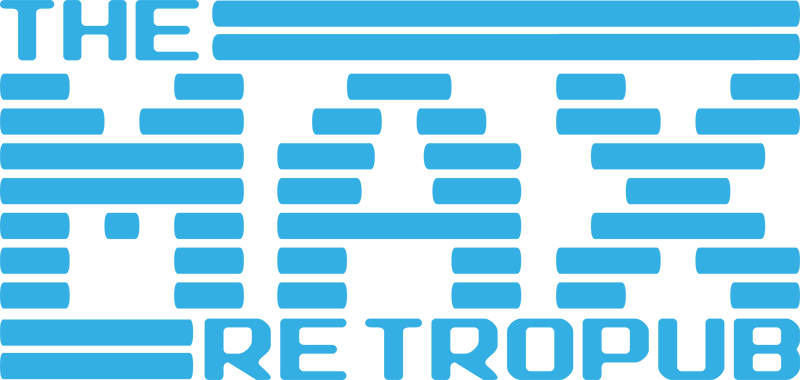 Tulsa's Only 80's and 90's Themed Arcade Bar
What's Happening:
Monday: $4 Jameson Shots (4pm – 2am)
Tuesday: FREE Game Play
Wednesday: Questionable Trivia @ 8pm
Thursday: Ladies Night! with DJ Moody (Ladies get free gameplay!)
Friday – Saturday: Retro DJ spinning all your favorite music from pre-1999!
Sunday: Live Event Bingo @ 2 pm with FREE Hurts Donuts (While they last!) The Max RetroPub
114 S Elgin Ave
Tulsa, OK
Phone: (918) 895-6200
Ages: 21 & Up
Hours:
Mon-Sat: 4PM – 2AM
Sun: 12PM – Close
Max Retropub: A Tulsa Blue Dome Bar!
Shots

Breakfast Club
Three Olives Loopy Vodka, Yoo-Hoo, Pixie Stick Rim
Chuck Norris
Jim Beam, House Energy Drink, Splash or Two (If you can handle it) of Magma Hot Sauce
Death Star
Jagermeister, Rumplemintz, Goldschlager, 151
Cobra Commander
Blue Raspberry Slush Puppy, Absolut Lime Vodka
Raspberry Beret
Dekuyper Razzmatazz, Maker's Mark, Cranberry, Pop Rock Rim
Slimer
Dekuyper Melon, Cruzan Strawberry Rum, Finest Call Blue Curacao
Waka-Waka
Dekuyper Banana, Pinnacle Whipped Pineapple Juice, Pixie Stick Rim

Drinks

Ivan Drago
Absolut Peppar, Kahlua and Cream
Molly Ringwald
Pinnacle Cherry, Pinnacle Orange, Sweet & Sour, Cranberry Juice
Jem
X-Rated Lemonade, Topped with Blue Slush and Pop Rocks
Redrum
Skyy Blood Orange, House Energy Drink, Topped with Cherry Slush
Tron
Cruzan Coconut, Barton Rum, Sweet & Sour, Soda, Blue Curacao
Skreech
Absolut Lime, Pinnacle Cherry, Jim Beam, Cruzan Vanilla, Sweet & Sour, Pineapple, Blue Curacao
Wine as well as
non-alcoholic choices available.
Slushes

Flavors: Blue Raspberry & Cherry
Choose:
Cruzan Rum
Coconut
Passion Fruit
Strawberry
151
Vanilla
Black Strap
Bacardi Rum
Limon
Orange
Malibu Rum
Coconut
Absolut Vodka
Citron
Lime
Mandarin
Pear
Peppar
Pinnacle Vodka
Cherry
Whipped
Raspberry
Peach
Skyy Vodka
Blood-Orange
Pineapple
Vanilla
Draft Beers
Coors Banquet 
Fat Tire
Blue Moon
Guinness 
Sea Dog Blueberry Wheat Ale
Nine Band T-Town Lager*
Roughtail Everything Rhymes with Orange*
9 Band Cactus Kolsch*
Stone Cloud Chug Norris*
Abita Purple Haze
Bold Rock Pear Cider
Bold Rock Blood Orange 
Bold Rock Ginger with Tumerick Cider
Boulevard Wheat Unfiltered Beer
Bud Light
Budweiser 
Coop F5*
Coop Native Amber Can*
Coors Light 
Dog Fish Seaquench Ale
Dos Equis Lager
All Day IPA 
Good Ass Beer
Good Vibes
Hanson Brothers: Mmmhops*
Harp
Heineken
Hoegaarden
Left-hand Nitro Milk Stout 
Marshall Atlas IPA*
Marshall Sundown Wheat*
Michelob Ultra Bottle
Miller High Life
Miller Lite
Modelo Especial
Pabst Bue Ribbon 16oz 
Pacifico 
Prairie Bomb Nordaggios*
Prairie No Way Frose*
Prairie Phantasmagoria*
Prairie Rainbow Sherbert Sour*
Prairie Standard*
Prairie Vape Trick*
Red Stripe
Redd's Apple Ale
Rogue Dead Guy Ale
Sam Adams Rebel IPA
Shiner Bock
Sierra Nevada Pale Ale
Spaten Oktoberfest
Stella Artois
Stone Delicious IPA
Strongbow Gold Cider Strongbow 
Tecate
Truly Black Cherry
Truly Wildberry